The school campus is dotted with lush green lawns, parks and huge open space. The campus is crisscrossed with a network of brick paved and tarred roads and the security is ensured by a well-built boundary wall with closed circuit cameras and with the latest firefighting equipment. The spacious well-lit, well- ventilated main school building has a warm red brick exterior that provides a pleasant contrast to the green, open courtyard in the center. It houses spacious, sound proof smart classrooms, one of which faces the other, so that activities can be carried out without any disturbance from each other.
Laboratories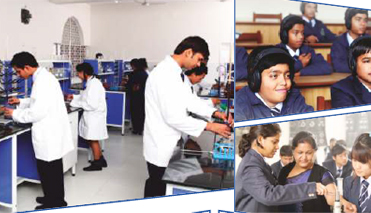 The school has a well equipped language laboratory where special emphasis is placed on the study of different languages and on proper pronunciation and intonation.
The well equipped laboratories provide excellent facilities in English,Physics,Chemistry,Biology,Maths,SocialScience and Computer, where the ingenuity and creativity of the students is discovered and nurtured to the fullest.
Computer Lab & Library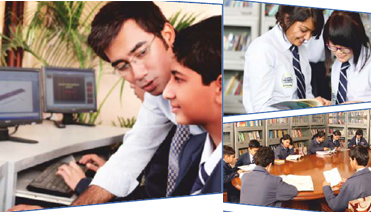 Students are well trained to become proficient in computer skills. Computer aided learning forms an integral part of the education system. Audio Visual aids in the form of Smart Classes are widely used to facilitate the process of learning. The school has also undertaken the task of making every student adopt computer based learning with the support of broadband and internet.
The school has a rich open shelf library that is designed to encourage students to develop interest in a variety of subjects and to provide them with the facility of project work, research and in depth study.
Health & fitness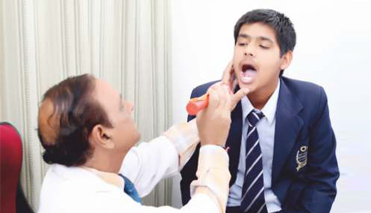 An infirmary for round the clock medical support is available in the school building.
Games and Sports is being given a special status and students are motivated and inspired to hone their skills in various games like Kabaddi, Kho kho, Football, Basketball, Volley ball, Hockey, Skating, Boxing, Cricket, Tennis, Badminton, Taekondo, etc.
Apollo Sports Academy is being especially run to provide extra coaching by specialized coaches to talented students so as to enable them to play at the National levels.